I bought this at my local Walmart for under $6. I been using it for about 3 weeks now so I feel I've tested it enough to give an accurate review.
Details on the Packaging:
Clears breakouts and reduces redness. Salicylic Acid Acne Medication With 100% Natural Green Tea
Product Description

This cleanser deep cleans to gently remove dirt and make-up and helps maintain skin's moisture balance.

Application

Wet face. Apply a generous amount of product over face and neck with fingertips. Rinse with water. Use daily for best results. Avoid contact with eyes. In case of contact with eyes, flush thoroughly with water. Use with Naturally Clear Green Tea Scrub.
Product Claims

Dermatologist Tested • Hypoallergenic • Non-Comedogenic • Dermatologist Tested • Not Tested on Animals • Does not contain animal ingredients • Formulated without Parabens and Phthalates
*Product description from
product website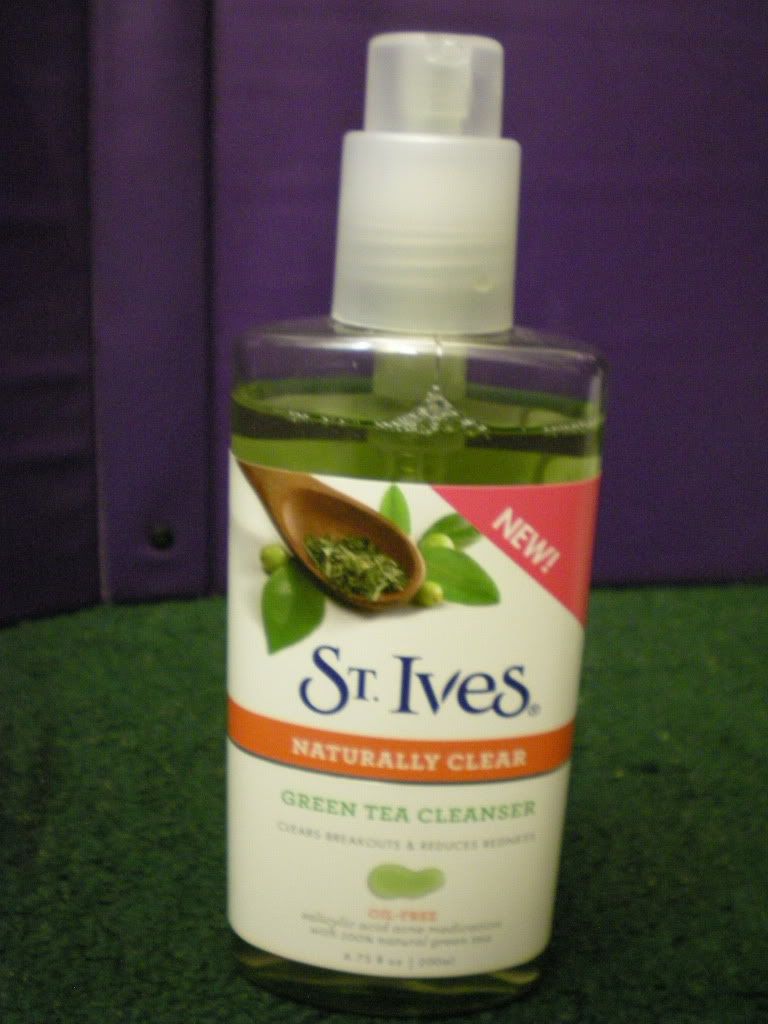 My Experience
My skin hasn't always been so easy to please. I'm actually really impressed with this cleanser! I absolutely LOVE the refreshing green tea scent.. It reminds me of my old favorite shampoo, Suave Green Tea & Jasmine, now discontinued, so now I look forward to using the cleanser, just so I can get a whiff of that lovely aroma.
When I apply this too my face, I make sure my face is already a little wet, but not too much, because the cleanser doesn't seem to lather as well if your face is soaked. When it comes to how much you use, less is more. It has a nice pump that makes it easy to get the product out. It doesn't take a lot for your face to feel clean and refreshed with this cleanser. I massage it in circular motions all over my face, and then rinse with lukewarm water. It seems to reduce redness, and doesn't leave my skin dry at all, just clean, smooth, and pretty. :)
Since I've been using this cleanser, I haven't experienced any breakouts at all! I'm amazed at that alone. I noticed though, that I did get a breakout on my forehead and chin after I didn't use it a couple of days, but that was my fault because I was sick and got lazy. :P
Summary
Price: 5/5
Packaging: 5/5
Performance: 5/5
Overall: 5/5
There aren't many St. Ive Products I don't like. The reasons being the quality of their products for their GREAT prices! I also love the fact that all their products are cruelty free, and do not contain parabens or phthalates. However, for me, their Green Tea cleanser stands above the rest, and it is now one of my skin care staples!
This concludes my first review. Yay! Next I'll be posting the review of the Green Tea Scrub that complements the cleanser so well!
*I purchased this product with my own money. Remember, this review is my personal experience with this product. Your results may be different than mine, and contributing factors could be your skin care routine and makeup habits.